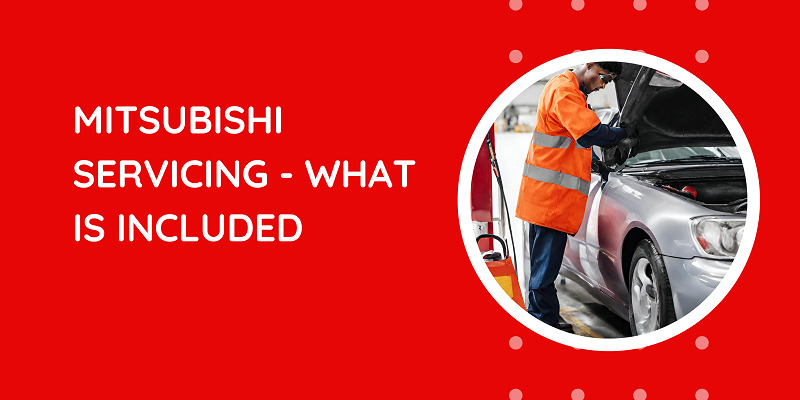 What is a Mitsubishi service and what is included
When it comes to maintaining your Mitsubishi vehicle in peak condition, understanding the significance of regular servicing is paramount. Mitsubishi cars are renowned for their robust engineering and top-tier performance, but even the most finely crafted machines require consistent care to ensure they operate at their best.
Understanding the Importance of Regular Servicing
Mitsubishi vehicles, known for their robust engineering, require regular maintenance to operate at peak efficiency. Skipping or delaying servicing can lead to a cascade of issues, including decreased fuel efficiency, reduced performance, and even safety hazards. Therefore, it's imperative to understand the significance of regular servicing.
Scheduled Maintenance
Mitsubishi servicing typically follows a well-structured schedule recommended by the manufacturer. This schedule includes routine check-ups and servicing tasks such as oil changes, filter replacements, and brake inspections.
Scheduled maintenance is the cornerstone of keeping your Mitsubishi vehicle in top-notch condition. It involves adhering to a predetermined service interval that covers essential maintenance tasks. These intervals are usually outlined in your vehicle's owner's manual and may vary depending on factors like your car's make and model, mileage, and driving conditions.
Scheduled maintenance includes routine check-ups and servicing tasks to ensure the smooth operation of your Mitsubishi. Here are some key components of scheduled maintenance:
1. Oil Change
Regular oil changes are vital for engine health. The servicing includes draining old oil, replacing the oil filter, and filling it with fresh, high-quality oil. This process ensures that your engine remains properly lubricated, preventing excessive wear and tear.
2. Brake Inspection and Maintenance
Ensuring your brakes are in optimal condition is crucial for your safety. Mitsubishi servicing includes inspecting and servicing your brakes, including pad replacement if necessary. This step ensures that your vehicle's braking system operates efficiently, reducing the risk of accidents.
3. Fluid Top-Ups
Various fluids, such as coolant and transmission fluid, play a vital role in your vehicle's performance. The servicing involves checking these levels and topping up as needed. Proper fluid levels are essential for engine cooling, smooth gear shifting, and overall vehicle reliability.
4. Tyre Inspection and Rotation
Properly maintained tyres are essential for a smooth and safe ride. Mitsubishi servicing includes tyre inspection and rotation to ensure even wear and extend tyre life. Regular tire rotations help maintain proper alignment and balance, reducing uneven wear and prolonging the life of your tyres.
5. Air Filter Replacement
A clean air filter is essential for the engine's performance and longevity. The servicing includes replacing the air filter to maintain optimal air quality. A clean air filter ensures that your engine receives clean, oxygen-rich air, leading to efficient combustion and improved fuel economy.
6. Battery Check
A dead battery can leave you stranded. Mitsubishi servicing includes a battery check to ensure it's in good condition. Technicians will inspect the battery's terminals, voltage, and overall health to prevent unexpected breakdowns.
7. Inspection of Belts and Hoses
Worn-out belts and hoses can lead to serious engine damage. The servicing includes a thorough inspection and replacement if necessary. This step helps prevent belt or hose failure, which can cause engine overheating or loss of power steering.
8. Safety Systems Check
Modern Mitsubishi vehicles come equipped with advanced safety systems. Servicing includes checking and calibrating these systems for your safety. Ensuring that your safety features, such as airbags and stability control, are in proper working order is essential for your protection on the road.
9. Interior and Exterior Cleaning
Mitsubishi servicing goes beyond the mechanical aspects. Your vehicle will receive a thorough cleaning, both inside and out, leaving it looking and feeling brand new. A clean and well-maintained car not only enhances your driving experience but also contributes to its overall value.
Benefits of Mitsubishi Servicing
Choosing Mitsubishi servicing offers a multitude of benefits:
When you invest in a Mitsubishi vehicle, you're not just buying a car; you're acquiring a trusted companion for your journeys. To ensure that your Mitsubishi remains reliable, safe, and in peak condition, regular servicing is essential.
Our commitment to delivering exceptional servicing solutions stems from our understanding of the profound bond between a driver and their Mitsubishi. We know that your vehicle is not just a machine; it's a part of your daily life, accompanying you on adventures, commutes, and family road trips. That's why we strive to offer more than just maintenance; we offer peace of mind.
The Importance of Regular Mitsubishi Servicing
Regular servicing is the heartbeat of your Mitsubishi. It goes beyond changing oil and filters; it's about preserving your car's longevity and performance. Our experienced technicians are trained to identify potential issues before they escalate, saving you time and money down the road. By addressing problems early, we help you avoid costly repairs and maintain the safety of your Mitsubishi.
Free Home and Roadside Assistance
At Tanners Cardiff, we understand that car troubles can strike at the most inconvenient times. That's why we offer free home and roadside assistance as part of our servicing package. Whether you're dealing with a non-starting vehicle in your driveway or find yourself stranded by the roadside, we've got your back.
Comprehensive Service Plans
Your Mitsubishi is unique and so are your servicing needs. Mitsubishi service plans are designed to cater to the specific requirements of your vehicle. We believe in a tailored approach, ensuring that you only receive the services essential for your car's well-being. This approach not only ensures optimal care but also prevents unnecessary expenses.
Convenient "Pay Later" Option
Mitsubishi understands that managing finances can be a concern when it comes to vehicle maintenance. To make things easier, Mitsubishi offers a "Pay Later" option. This flexible payment solution allows you to get the service your vehicle needs without the immediate financial burden. You can pay for it at a later date, ensuring your car's health is never compromised due to financial constraints.
Expert Mitsubishi Technicians
Here at Tanners Cardiff, our team of certified technicians are the backbone of Mitsubishi's servicing excellence. They possess in-depth knowledge of Mitsubishi vehicles and are equipped with state-of-the-art diagnostic tools. When you trust your Mitsubishi to us, you can rest assured that it's in the hands of experts who understand the intricacies of your vehicle.
Genuine Mitsubishi Parts
We believe in the quality and authenticity of Mitsubishi parts. When replacements are necessary, we use only genuine Mitsubishi components. This ensures that your vehicle maintains its peak performance, safety and reliability. Genuine parts are designed to fit perfectly and function optimally in your Mitsubishi, making sure that it remains a joy to drive.
When you choose Mitsubishi servicing, you're not just maintaining your vehicle; you're investing in the long-term quality and safety of your Mitsubishi. Your car deserves nothing but the best, and that's exactly what we offer through our comprehensive servicing solutions.
If you would like to know more about Mitsubishi servicing, speak to the friendly team here at Tanners Cardiff.
Latest News